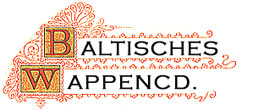 "Baltisches Wappencd" (Baltic Coats of Arms on CD) is patterned after the 19th century original work by Carl Arvid Klingspor and M. Hildebrandt. This book has been converted to digital media by Jonas Hjelm.
Please take a look at the alphabetical register of the 798 coat of arms.
Some samples are: Fürst Subow, Baron Posse and von Ehden.
Order the CD as a digital download and burn the disk or use it on your local hard drive for 50 Swedish crowns. (approx. 6 €)
Click on the button below to buy and download the CD.

Senaste nytt
Kategorier
Arkiv